Guns N' Roses' latest album comes to us via mastering engineer supremo Bob Ludwig with a request from Axl & Co. that they didn't want it smashed. Really?
After Turn Me Up's certification debacle of Elbow's "The Seldom Seen Kid" – fantastic album but doesn't really hold up to being much more dynamic than other current albums [image below] – I was rather sceptical of Ludwig's assertion that the tracks on Chinese Democracy had "no compression that was used just for loudness, only compression that was needed for great sounding rock and roll".
Finally bought myself a copy and played the CD in the studio. This is a beautiful sounding album, with well crafted multi-layered and dense mixes, that really pop out of the speaker. So much more enjoyable to listen to than at the Loudness War volume to which we have become accustomed.
Definitely a step in the right direction.
Guns N Roses vs Elbow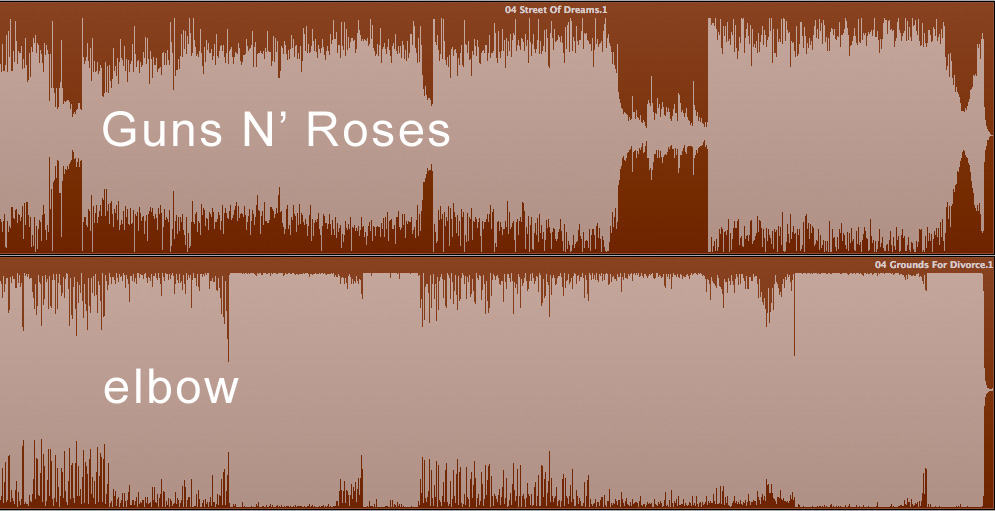 This style of music is inherently going to be fairly loud to begin with but it's encouraging to see that it wasn't taken further just because it is possible.
Currently enjoying it in the car with my favourite track of the moment being "If The World" (tr.5).